Who is Deshaun Watson?
Deshaun Watson is one of the most celebrated quarterbacks in the recent history of the NFL. He has played American football since he was in high school and he has grown to become one of the most notable figures in the game. If you are a Houston Texan fan, you can attest to the fact that Watson dazzles in all his appearances, and he is an NFL player who endeavors to take the team to the next level in every match. So here is the in-depth Deshaun Watson Wonderlic Profile!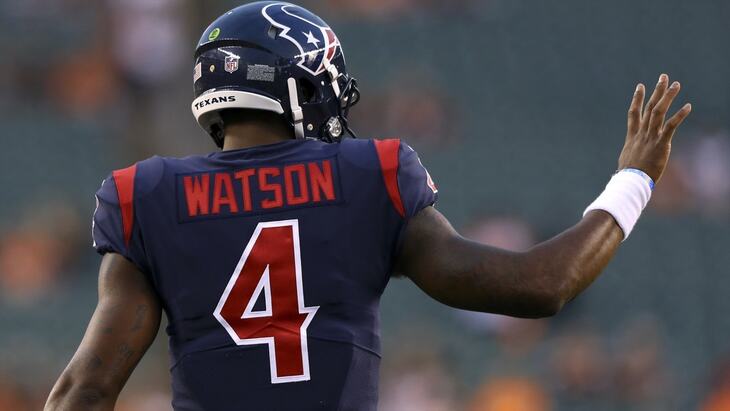 Watson is a man who has publicly announced that he will do things in the NFL that haven't been done for decades. He is a determined and unique player, and that's what makes him stand out among his peers.
He is undoubtedly one of the youngest players in the NFL, having done his NFL Wonderlic exam and setting the Deshaun Watson Wonderlic Score in the 2017 draft before being picked by the Houston Texas as the 12th pick overall in the first round. One year later, he got his first career Pro Bowl, which many rookies font receive in such a short time.
Watson's High School Career
Just like many players in the NFL, Watson saw a significant rise in his football career during his junior year in high school. Initially, he joined Gainesville High School in 2010 and immediately joined the Red Elephant Football team. In his career as a junior, Watson did exceptionally well and broke a number of state records. He boasts a total of 17,134 yards, 218 touchdowns, and 13,077 career passing yards, and 155 passing touchdowns.
Also, he won a number of accolades which decorated his junior career even further, including the top 100 recruit, Junior All-American, and Player to watch in 2014. In his senior years, he was the starting quarterback for Gainesville High School Football Team, which he led to state semi-finals.
Due to his success, he was offered a place in various universities and colleges, but he ultimate choose to play college football for Clemson University.
His star shone even more as a freshman
Watson started his college football as a backup starter to Cole Stoudt, but the coach, having identified his talent, gave him ample time to play. In his first three games, he was able to complete 29 out of 41 passes for 479 yards, with four touchdowns and zero interceptions. This made him better than Stoudt, and as a result, he was named the starting quarterback for the Tigers in September 2014.
He impressed the team and the school when he broke a record in his first career start against the Carolina Tar Heels with six touchdowns for 435 yards. As a valuable player in this game, he led his team to a historic 50-35 win.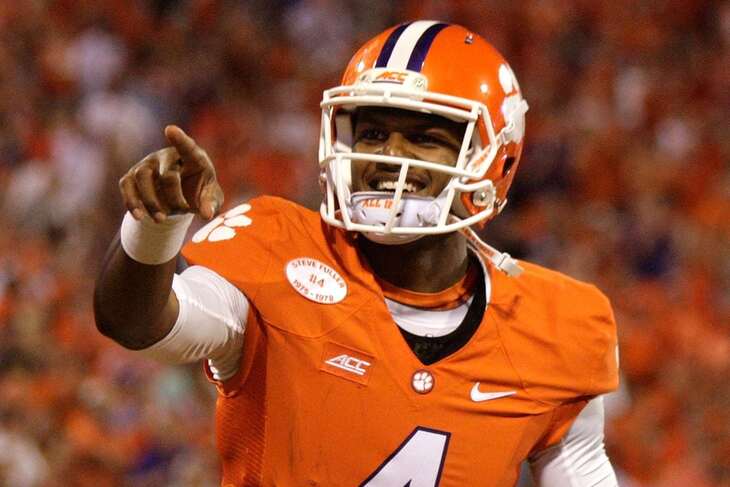 In a game against the Louisville Cardinals, Watson broke his right hand and had to leave in the first quarter. The injury kept him on the bench for quite some time, and he missed various games against Wake Forest, Boston College, and Syracuse.
He returned with a bang in a game against Georgia Tech, but his ambitions were cut short when he suffered a sprained LCL. This made him miss a number of games as well.Then, after recovering, he then strained his knee during training, and as a result, he missed another game against the Georgia State. He, however, made a comeback and was the starting quarterback in the game against the Gamecocks.
2015 was another good year for Watson as he led his team to a 12-0 win in the regular season and a number one position in the rankings. He also led the Tigers to qualify for the ACC Championship Game against North Carolina. He threw an impressive 289 yards, ran for 131 yards, performed two touchdowns, and consequently led the team to a 45-37 win against the Tar Heels. Notably, the team won the ACC championship for the first time since 2011.
Thanks to his performance, Watson was crowned the ACC Championship Game MVP.
Before his exit from college, Watson also had many other achievements. He led the team to various victories and broke many records. He threw for 4000 yards, and rushed for over 1000 yards, becoming the first player to ever accomplish this in the history of college football.
He also won a number of accolades including the 2015 ACC player of the year, ACC offensive player of the year, and became a finalist in the Heisman Trophy.
Watson's professional Career
Even though Watson's junior and college career provides us with a clue on the type of football player he is, it is important to have a look at some of the milestones he has achieved since leaving college before going to the Deshaun Watson Wonderlic Profile.
Right after completing his stay at Clemson, most sports analysts, including ESPN, Sports Illustrated, and Pro Football Focus ranked Watson as the top quarterback available in the 2017 draft. Some sites, including the NFLDraftScout.com, even went ahead to rank him as the second best quarterback in his batch.
He was drafted by the Houston Texans in the first round of the 2017 draft, making him the third quarterback picked in the draft behind Patrick Mahomes and Mitchell Trubisky.
Following this, Watson was signed for a $23.84 million four-year contract, which included a $8.21 million signing bonus.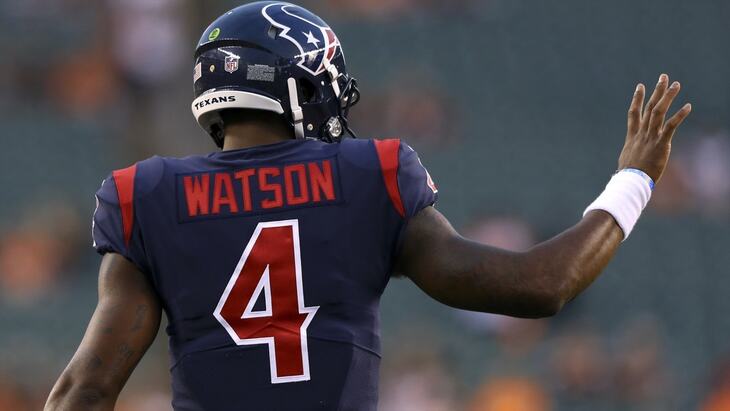 He made his first regular season appearance against the Jacksonville Jaguars in September 2017 as a backup for Tom Savage. Watson also threw his first NFL touchdown in the first quarter, completing it with 102 passing yards, one touchdown, and one interception. Unfortunately, his team lost 29-7.
During Thursday Night Football on September 14, 2017, on the day of his 22nd birthday, Watson finished 125 yards, 49 yard rushing touchdowns, and 67 rushing yards, leading his team to win 13-9 against the Cincinnati Bengals.
From there, Watson continued to improve and would later become the first rookie to pass at least four touchdowns and rush for a single touchdown since Minnesota Vikings' Fran Tarkenton in 1961.
By the end of 2018, Watson was ranked 50th in the NFL's list of top 100 players. He was then crowned to his first Pro Bowl on January 21 2019, replacing Tom Brady.
How good is the Deshaun Watson Wonderlic Score?
At 24, Watson is doubtlessly one of the most successful quarterbacks in the history of the NFL. Having achieved this success at a young age, it would be critical to understand how he fared in the NFL Wonderlic exam.
Watson is widely described as a passionate individual and charismatic leader. He was doubtlessly one of, if not the best, college quarterback in the 2016 season. However, his Wonscore was not as impressive as you might have imagined, since he scored 20 out of 50, which was the lowest mark in the 2017 draft.
Below is a list showing how the 12 quarterbacks scored in the 2017 draft:
Brad Kaaya – 34

Nate Peterman – 32

Trevor Knight – 30

Josh Dobbs – 29

DeShone Kizer – 28

CJ Beathard – 26

Mitchell Trubisky – 25

Davis Webb – 25

Patrick Mahomes – 24

Chad Kelly – 22

Jerod Evans – 21

Deshaun Watson – 20
The Wonderlic personality test scores don't necessarily translate into success or failure as far as the NFL is concerned. Although Watson was four points below average, it doesn't mean that he is not a good player. He is a player with a desirable personality, and his cognitive, decision-making, and problem-solving skills are visible in the field. Although he has his flaws, he remains one of the best rookies in the NFL history.