Score High on the Wonderlic Scholastic Level Exam (SLE)
Wonderlic PRACTICE QUESTIONS
The Wonderlic SLE is short for Scholastic Level Exam. It's a version of their famous cognitive ability test which is specifically designed for colleges and universities. A poor performance could mean a rejection letter, while a great score boosts your chances of getting accepted. Your score matters, so be prepared.And there are ways to improve your SLE test scores, you just need to prepare properly.
If you're planning to pursue higher education, you might be asked to complete the Wonderlic Scholastic Level Exam. While the majority of universities and colleges across America require the SAT or ACT, a growing number of institutions are asking prospective students to take what is usually administered as a pre-employment assessment.
Originally created for large corporations, the Wonderlic SLE, also known as the Wonderlic Personnel Test, evaluates general intelligence and helps schools to identify the most promising applicants.
If you're asked to take the Wonderlic SLE, you should know that the exam is rather unique. While the material isn't necessarily all that difficult, because of the strict time limit, only a small percentage of students even make it through all of the questions. Make sure you also try our free Wonderlic SLE practice test to see how well you perform.
Before you head out to take the exam, make sure you know what to expect, and how to prepare.
What is the Wonderlic SLE Test?
The Wonderlic SLE Test is a simple, online assessment used to evaluate what Wonderlic likes to call your cognitive ability. Designed as a compact I.Q. test, the Wonderlic SLE is meant to test how well you recognize patterns, process information, and solve problems while under pressure.
The standard test contains 50 multiple-choice questions and lasts no more than 12 minutes. Even though the exam is online, you'll be asked to come in to an official assessment center to complete it as it is a proctored exam.
There's also a shorter version of the test known as the Wonderlic SLE Quicktest. While the content is identical, this exam only contains 30 questions and lasts but 8 minutes. Schools typically use the Quicktest as a screening assessment, and, as such, you'll be able to take it from the comfort of your own home. If you pass this initial evaluation, you'll be asked to come in to take the full-length exam.
As you'll see on our free practice test, the Wonderlic SLE covers four different subjects: mathematics, logic, verbal comprehension, and general knowledge, and you'll be asked to complete various kinds of exercises including:
Why Take the Wonderlic SLE vs. SAT/ACT?
You may have heard that the Wonderlic is reserved for NFL football players. While that is true, professional athletes are not the only people taking the exam. Students across the country are required to take the Wonderlic SLE in order to apply for all different kinds of programs.
While many traditional and prestigious institutions still rely on the SAT or ACT, these exams don't necessarily yield useful results. Not only does it take several hours to complete either one of these exams, but they're also very academic in nature. You need to have completed basic trigonometry, advanced algebra, and general geometry to perform well.
If you intend to pursue engineering, enter the medical field, practice law, or study the humanities, you'll need to show that you've reached a certain level of proficiency in all high school-level subjects. However, not everyone wants to invest years of their life into mastering abstract concepts and debating complex issues. For career-minded students, taking the SAT or ACT would be a waste of time and effort.
Plus, in today's day and age, adults are returning to pursue degrees at various stages of their lives either to strengthen their resume or change career paths. Many of these individuals have been out of school for years, and haven't looked at geometry for at least a decade. Why would they spend weeks studying for an advanced standardized exam if they wouldn't actually need a lot of the material anyway?
Eldon Wonderlic designed the psychometric test so that it would resemble an I.Q. test. Rather than evaluating your knowledge of grammar and advanced mathematics, the Wonderlic test, quite simply, tests your ability to think critically in various situations. Schools that offer hands-on, career-oriented learning tracks use the Wonderlic because they want to know whether their students will be able to grasp complex issues and solve problems as they arise both during their course of study and throughout their professional lives.
Who Needs to Take the Wonderlic SLE?
Nearly all nursing programs in America require either the Wonderlic SLE Exam or the Wonderlic Basic Skills Test. Whether you're applying to become a Certified Nursing Assistant, Licensed Practical Nurse, or Licensed Vocational Nurse or get your Associate of Science in Nursing or Associate Degree in Nursing, you'll probably need to take the Wonderlic.
However, prospective nurses aren't the only ones who need to take the Wonderlic SLE. Plenty of other vocational programs use the test as an integral part of the admissions process. If you plan to become an assistant to a medical professional such as a general physician, dentist, or physical or occupational therapist, you can also plan on taking the test.
For one reason or another, medically related fields request Wonderlic scores very frequently, but a number of private colleges use the test as a general entrance exam. The American Career College, Bauder College, and Carrington College all ask for Wonderlic SLE scores on their general application, so regardless of whether you want to study business management or criminal justice, you'll need to take the test.
For one reason or another, medically related fields request Wonderlic scores very frequently, but a number of private colleges use the test as a general entrance exam. The American Career College, Bauder College, and Carrington College all ask for Wonderlic SLE scores on their general application, so regardless of whether you want to study business management or criminal justice, you'll need to take the test.
Below, you'll find a list of institutions that require one of the Wonderlic exams for incoming students:
What Is a Good Score for the Wonderlic SLE?
As on the standard Wonderlic exam, there is no official passing grade on this exam. Each school will determine which grades it will accept for each program. Since each college is different, you'll have to check the admissions requirements on your own. Fortunately, most institutions will provide a list of courses online along with the lowest score accepted for each.
Because scores vary widely from one school to the next, it's impossible to provide you with any concrete information here. However, we've listed a few common jobs as well as the scores we think you should aim for each position just to give you a very general idea.
Is the Wonderlic Scholastic Level Exam Reliable?
Schools want to know, first and foremost, that the students they accept are of a certain caliber. After all, private colleges are providing a service. Make no mistake. While colleges do want to provide you with a quality education, they're also trying to bring in tuition dollars, and in order to do that, they need to build and protect a certain reputation.
Colleges want to see their students succeed because their success reflects positively on the institution. Schools publish their admissions and graduation rates every year, and they're very aware of how important these statistics are. For instance, a high dropout rate will hurt enrollment numbers and donor support the following year.
So, schools want to make sure that the students they admit to their programs are dedicated, hard-working individuals who have the skills to make it through their entire program successfully. By using the Wonderlic SLE Assessment, companies hope to eliminate lazy, disruptive employees without spending any more time than they have to in interviews.
As you can see in the graph below, in a sample of 11,000 students admitted to colleges with the help of the Wonderlic SLE, those who scored the highest on the Wonderlic did, indeed, receive the highest grades while in school. Students who score well on the Wonderlic, according to research, are also more likely to graduate and find work in their fields and less likely to default on any student loan payments.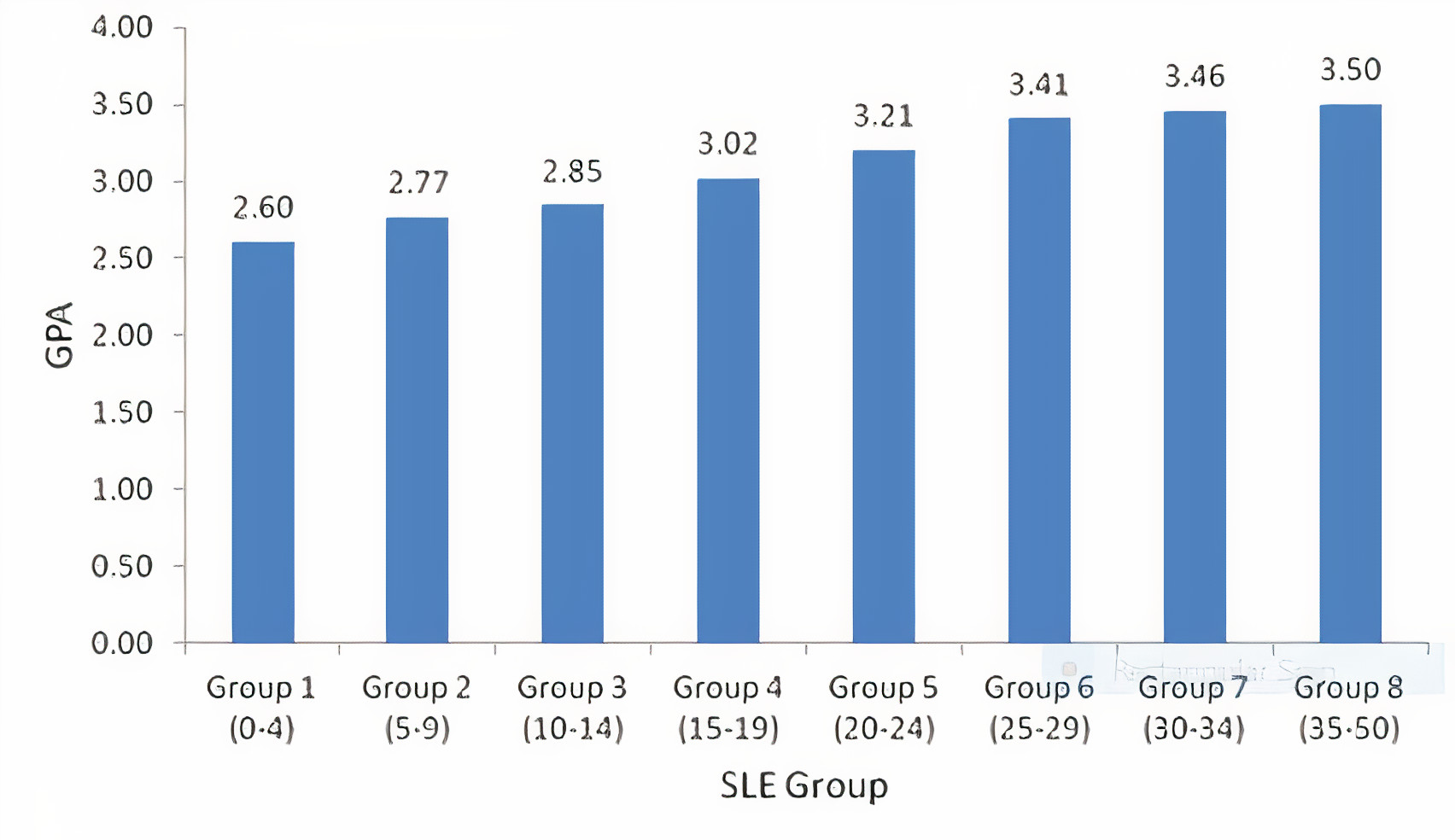 Because all of these metrics can really influence a college's bottom line, these institutions are all the more likely to invest a bit of time and effort into ensuring that the students they admit are high-quality, serious individuals.
Wonderlic SLE Practice Test
How to Pass the Wonderlic Scholastic Level Exam
If you haven't done so yet, make sure to go ahead and take a diagnostic exam to see where you stand. You'll want to do a trial run before starting to do any preparation to see how many more points you'll need to earn to achieve your required score. You can click on the "Free test" tab at the top of this page to try our very own free Wonderlic SLE practice test.
Review your answers carefully, and study the questions you answered incorrectly. You'll want to figure out not only what the correct answers were, but how you can find them as quickly as possible. Remember, when you only have 12 minutes for 50 questions, every second is crucial.If you're looking for some tips, click on "Online Course" at the top of this page to watch our free Wonderlic SLE test-taking module.
3. Practice, Practice, Practice
As they say, practice makes perfect! Once you've taken some time to see the different types of questions you'll encounter on the exam and develop more refined techniques for solving them more efficiently, you'll want to put your skills to use on some practice questions so that you'll be more than ready for the exam when the time comes.
Note: Wonderlic Inc. and other trademarks are the property of their respective trademark holders. None of the trademark holders are affiliated with Wonderlic Test Prep or this website.
Wonderlic PRACTICE QUESTIONS
The Rapic Wonderclic Mastery Course Reviews
Awesome
This course provided me with the proper material to guide me through the do's & don'ts of the course. I'm so glad I chose wonderlic test prep, because without it I wouldn't have been able to get the job I have always dreamed of.
Great Course I had been out of school for 11 years before deciding to go back to college. To say I was worried about the Wonderlic test is an understatement. I decided to use the test prep course and after just three days of studying, I felt confident to take the exam. My score increased by 19 points! I would definitely recommend this course to everyone.
I failed the wonderlic practice tests, but... This is the best money i ever spent. I did super well on a recent wonderlic test. If i had't used this program it would've have easily cost me a job oppertunity.
Worth The Money
I listened to all of the video presentations and took the practice exams and practice questions. I found the course to be very helpful. My practice test scored improved by at least 10 points. Also i was able to finish my actual test vs originally only be able to finish 30 questions on the practice exam i took.
I rate this website and the Wonderlic study guide a 5.0, without any doubt! I have been studying the Wonderlic test for some time as it is one of the requirements to enroll in the Respiratory Therapist school. I'm very glad I have purchased this study guide because it contains everything you need to know before taking the actual test. Definitely Recommended
I used the prep test to study up for 3-4 hours before taking the Wonderlic for a job interview. It was thorough and easy to understand. It showed great short cuts and focused you on what was important. The only criticism and why I didn't give it 5-stars is there were little mistakes in the explanations and sample prep tests throughout which I was.